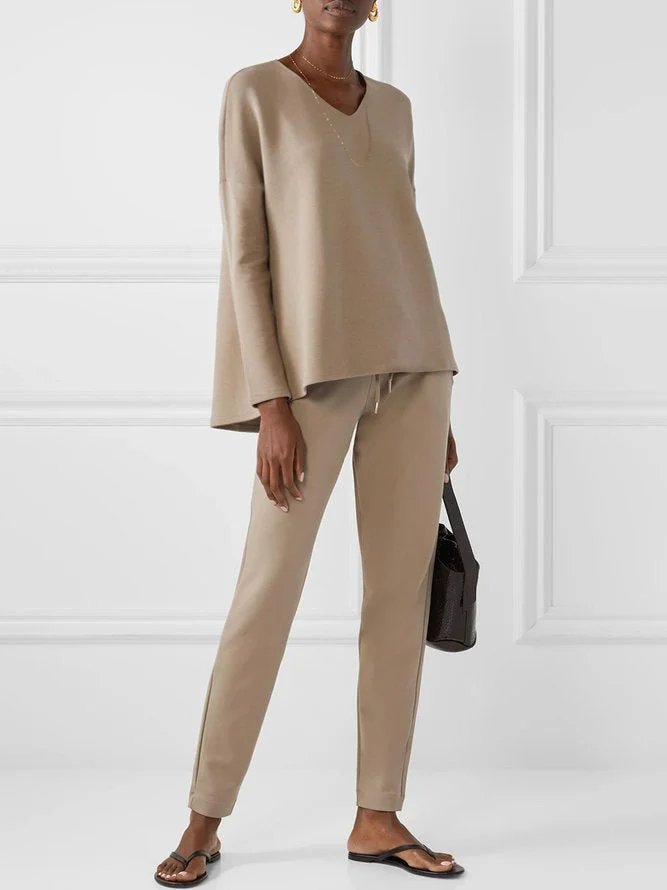 The loose solid-colored two-piece top features a V-neck and tapered design for a simple yet elegant look that's perfect for home or everyday wear on cooler days. Pants with an elastic waistband for a loose fit provide tummy support and freedom of movement to keep you as comfortable as possible.

- V-neck

- Long sleeves

- Solid color suit

- Hand wash/machine wash in laundry bag, cold water gentle cycle (Learn more)

Tips: Due to the large difference between monitors, the color of the picture may be slightly different, please refer to the actual color.

| | | | | |
| --- | --- | --- | --- | --- |
| Size | Length | Chest | Sleeve Length | Pant Length |
| \ | cm | inch | cm | inch | cm | inch | cm | inch |
| S | 82.5cm | 32.5 in | 92cm | 36.2 in | 40cm | 15.7 in | 105cm | 41.3 in |
| M | 82.5cm | 32.5 in | 96cm | 37.8 in | 40cm | 15.7 in | 106cm | 41.7 in |
| L | 84.5cm | 33.3 in | 104cm | 40.9 in | 42cm | 16.5 in | 107cm | 42.1 in |
| XL | 84.5cm | 33.3 in | 112cm | 44.1 in | 42cm | 16.5 in | 108cm | 42.5 in |
| XXL | 86.5cm | 34.1 in | 120cm | 47.2 in | 44cm | 17.3 in | 109cm | 42.9 in |
| 3XL | 86.5cm | 34.1 in | 128cm | 50.4 in | 44cm | 17.3 in | 110cm | 43.3 in |
| 4XL | 88.5cm | 34.8 in | 136cm | 53.5 in | 46cm | 18.1 in | 111cm | 43.7 in |
| 5XL | 88.5cm | 34.8 in | 144cm | 56.7 in | 46cm | 18.1 in | 112cm | 44.1 in |