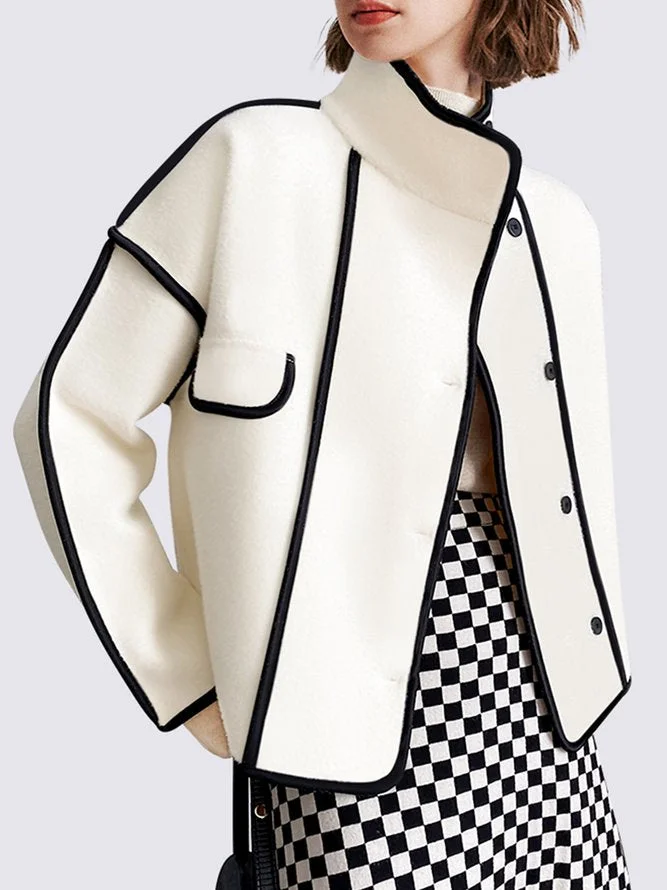 This color blocking loose jacket, only with panelling and stand collar design, is suitable for daily wear, weekend party, date, vacation, travel, etc. It can be worn with leggings, jeans, skirts, heels, boots, tops and shirts for an effortlessly stylish look.

- Decoration/craft:piping

- Garment length: Normal

- Sleeve length: long sleeve

- Fit: Loose

- Waistline: natural

- Elasticity:Micro-stretch

- Silhouette: H-line

- Thickness: Normal

- Hand wash/machine wash in a laundry bag, gently cycle in cold water (learn more)

Tip. Due to large differences in monitors, the color of the pictures may be slightly different, please refer to the actual color.
| | | | | |
| --- | --- | --- | --- | --- |
| Size | Length | Chest | Shoulder | Sleeve Length |
| \ | cm | inch | cm | inch | cm | inch | cm | inch |
| S | 57.5cm | 22.6 in | 103cm | 40.6 in | 22cm | 8.7 in | 48cm | 18.9 in |
| M | 58.5cm | 23.0 in | 107cm | 42.1 in | 23cm | 9.1 in | 49cm | 19.3 in |
| L | 59.5cm | 23.4 in | 111cm | 43.7 in | 24cm | 9.4 in | 50cm | 19.7 in |
| XL | 60.5cm | 23.8 in | 115cm | 45.3 in | 25cm | 9.8 in | 51cm | 20.1 in |
| XXL | 61.5cm | 24.2 in | 119cm | 46.9 in | 26cm | 10.2 in | 52cm | 20.5 in |
| 3XL | 62.5cm | 24.6 in | 123cm | 48.4 in | 27cm | 10.6 in | 53cm | 20.9 in |
| 4XL | 63.5cm | 25.0 in | 127cm | 50.0 in | 28cm | 11.0 in | 54cm | 21.3 in |
| 5XL | 64.5cm | 25.4 in | 131cm | 51.6 in | 29cm | 11.4 in | 55cm | 21.7 in |