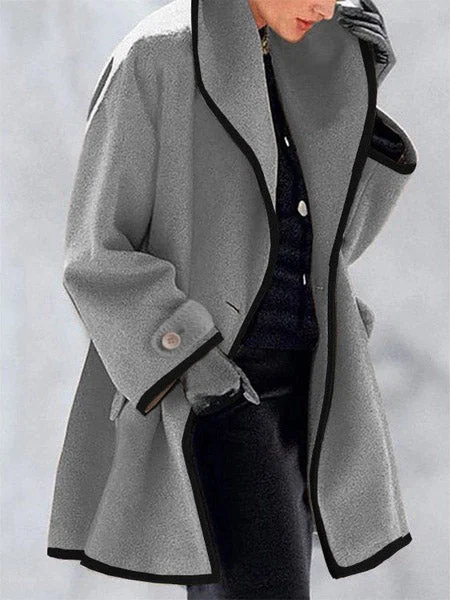 This loose wool coat is suitable for office, work, meeting, daily wear, weekend party, date, holiday, travel etc. It can be worn with leggings, jeans, heels, boots to tops, shirts, knitwear for an effortless style.

- Sleeve length: long sleeve

- Fit: Loose

- Waistline: Natural

- Stretch: Non-stretch

- Thickness: Regular

- Neckline: Stand-up collar

- Material: Wool fabric

- Washing: Hand wash/machine wash in a laundry bag on a gentle cycle in cold water (learn more).

Tip. Due to large differences between monitors, the color of the pictures may be slightly different, please refer to the actual color.
| | | | | |
| --- | --- | --- | --- | --- |
| Size | Length | Chest | Shoulder | Sleeve Length |
| \ | cm | inch | cm | inch | cm | inch | cm | inch |
| S | 75cm | 29.5 in | 110cm | 43.3 in | 54cm | 21.3 in | 51cm | 20.1 in |
| M | 76cm | 29.9 in | 115cm | 45.3 in | 56cm | 22.0 in | 51cm | 20.1 in |
| L | 77cm | 30.3 in | 120cm | 47.2 in | 58cm | 22.8 in | 52cm | 20.5 in |
| XL | 78cm | 30.7 in | 125cm | 49.2 in | 60cm | 23.6 in | 52cm | 20.5 in |
| XXL | 79cm | 31.1 in | 130cm | 51.2 in | 62cm | 24.4 in | 53cm | 20.9 in |
| 3XL | 80cm | 31.5 in | 135cm | 53.1 in | 64cm | 25.2 in | 53cm | 20.9 in |
| 4XL | 81cm | 31.9 in | 140cm | 55.1 in | 66cm | 26.0 in | 54cm | 21.3 in |
| 5XL | 82cm | 32.3 in | 145cm | 57.1 in | 68cm | 26.8 in | 54cm | 21.3 in |