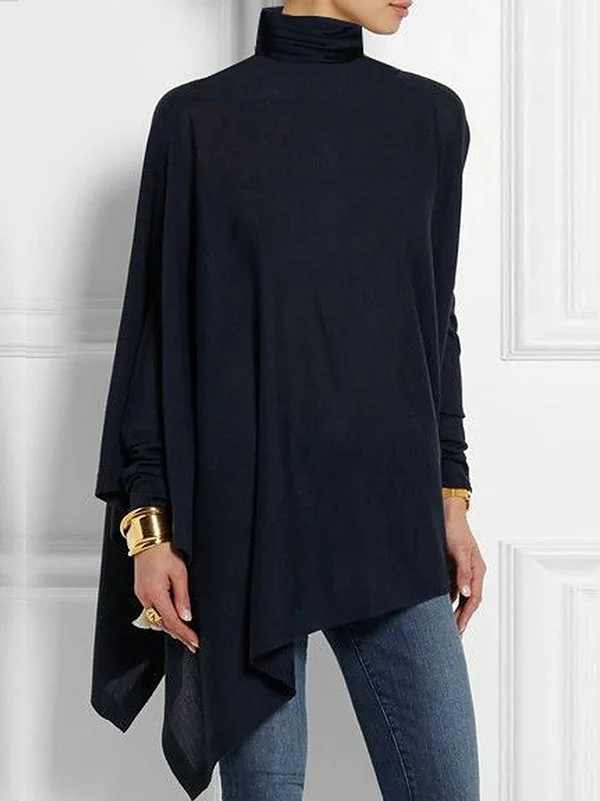 This loose fitting women's top is very unique. It has a slanted hem and pleated overlay design with a small turtleneck overlay that is not only warm and stylish, but perfect for pairing with your favorite jeans or leggings. This loose fitting top is perfect for casual, everyday, school, work, parties and any occasion in your daily life.

- Long Sleeve

- Relaxed fit

- Hand wash/machine wash in a laundry bag on a gentle cycle with cold water (learn more)

Tip. Due to large differences between monitors, the colors in the pictures may vary slightly, please refer to the actual colors.
| | | | | |
| --- | --- | --- | --- | --- |
| Size | Length | Chest | Sleeve Length | Hem |
| \ | cm | inch | cm | inch | cm | inch | cm | inch |
| S | 53cm | 20.9 in | 104cm | 40.9 in | 45cm | 17.7 in | 104cm | 40.9 in |
| M | 53cm | 20.9 in | 108cm | 42.5 in | 45cm | 17.7 in | 104cm | 40.9 in |
| L | 54cm | 21.3 in | 112cm | 44.1 in | 46cm | 18.1 in | 108cm | 42.5 in |
| XL | 54cm | 21.3 in | 120cm | 47.2 in | 47cm | 18.5 in | 116cm | 45.7 in |
| XXL | 55cm | 21.7 in | 128cm | 50.4 in | 48cm | 18.9 in | 124cm | 48.8 in |
| 3XL | 55cm | 21.7 in | 136cm | 53.5 in | 49cm | 19.3 in | 132cm | 52.0 in |
| 4XL | 56cm | 22.0 in | 144cm | 56.7 in | 50cm | 19.7 in | 140cm | 55.1 in |
| 5XL | 56cm | 22.0 in | 148cm | 58.3 in | 51cm | 20.1 in | 148cm | 58.3 in |