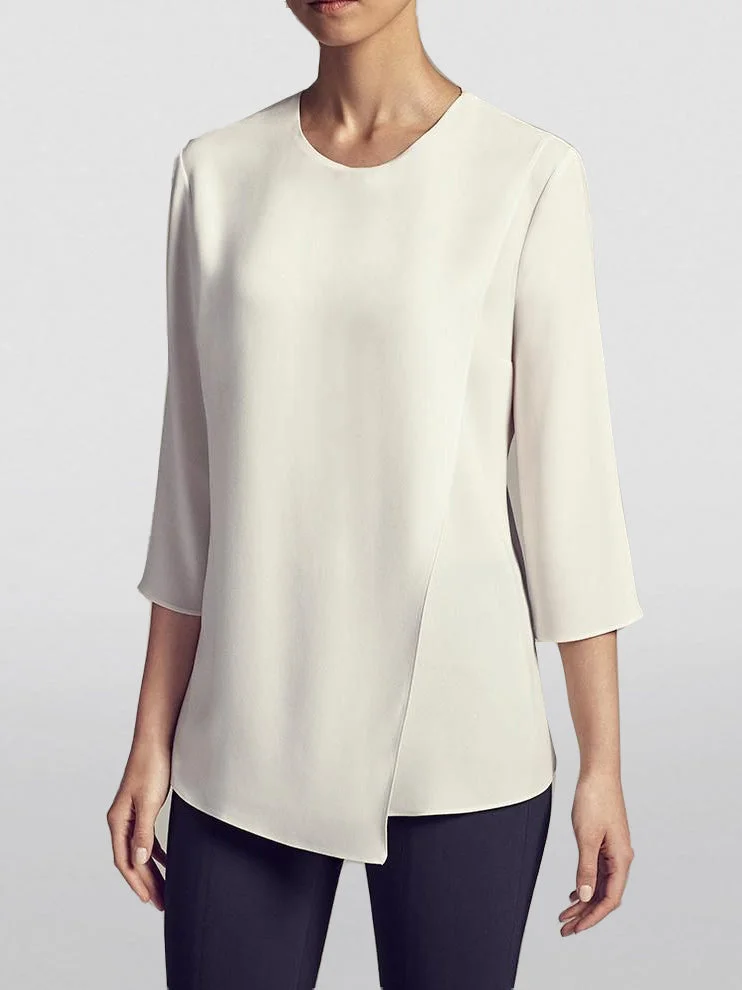 This solid color peplum top features a double-layer design that fits your perfect curves, but isn't too tight. Perfect for everyday, office, home, etc. Can be paired perfectly with skinny jeans, pencil pants, and jeans.

- Round neckline; three-quarter length sleeves; button closure in front

- Hip length short front and long back hem with side slits

- Cotton and linen, pre-shrunk

- Hand wash/machine wash in a laundry bag on a gentle cycle with cold water (learn more)

Tip. Due to large differences between monitors, the colors in the pictures may vary slightly, please refer to the actual colors.
| | | | |
| --- | --- | --- | --- |
| Size | Length | Chest | Sleeve Length |
| / | cm | inch | cm | inch | cm | inch |
| L | 84.5cm | 33.3 in | 104cm | 40.9 in | 42cm | 16.5 in |
| XL | 84.5cm | 33.3 in | 112cm | 44.1 in | 42cm | 16.5 in |
| XXL | 86.5cm | 34.1 in | 120cm | 47.2 in | 44cm | 17.3 in |
| 3XL | 86.5cm | 34.1 in | 128cm | 50.4 in | 44cm | 17.3 in |
| 4XL | 88.5cm | 34.8 in | 136cm | 53.5 in | 46cm | 18.1 in |
| 5XL | 88.5cm | 34.8 in | 144cm | 56.7 in | 46cm | 18.1 in |